Let's Connect, call us at 604-277-3805
LOCATION
Our showroom and warehouse is located at:
Unit 7 - 12240 Horseshoe Way
Richmond, BC V7A 4X9
HOURS
Monday to Friday
9:00 am - 4: 00 pm / Shipping 9:00 am - 3:30 pm
Our Story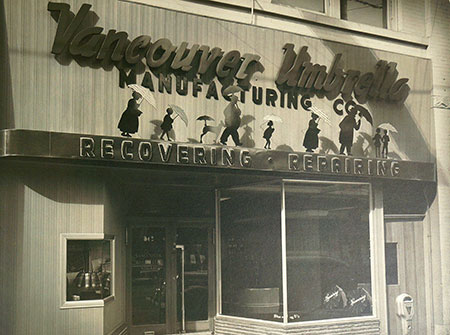 It's a family affair...
The story of Vancouver Umbrella dates back to 1932, when the Great Grandfather of Vancouver Umbrella's current President, Shana Hochfelder, began what would become a family legacy. Isadore Flader was a Polish immigrant who began his career repairing umbrellas door-to-door in Toronto. Although the business grew relatively quickly, Isadore had dreams of creating something even bigger. When he heard from a friend about the rainy west coast of Canada, he decided that it was time for a move. He moved his family, including his four young children, to Vancouver and opened Vancouver Umbrella's first manufacturing facility and retail store on West Pender Street in the heart of the city.
The family's involvement in the business continued when Peter Hochfelder asked his daughter, Shana, to start working full time with Vancouver Umbrella in 1992. Shana's first mandate was to initiate corporate relationships, and when she landed a local brewery in British Columbia as her first corporate client, she knew she was onto something. Since she began, she has not only expanded the business to include production of corporate umbrellas, but she has also grown the retail customer base and generated new products with innovative patented designs for frames, handles and fabrics. Shana Hochfelder became company President in 2004, and today the business boasts multi-million dollar annual sales volumes from all over North America. Despite the many changes over the years, Vancouver Umbrella has continued to build on the legacy and tradition Isadore began back in 1932, providing the highest quality products and delivering exceptional service to its customers.