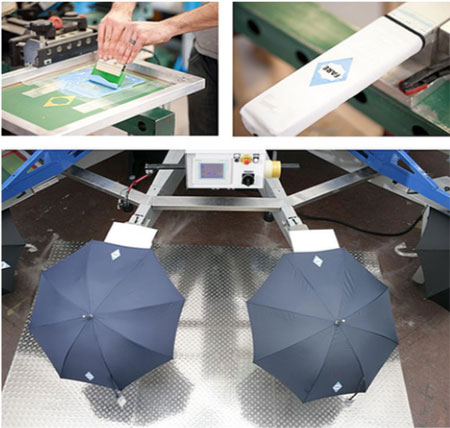 This traditional method is highly effective and long lasting. An image is transferred to the umbrella surface by ink, which is pressed through a stenciled 'silk' screen and treated with light- sensittive emulsion. A screen is required for each color to be printed. Pantone Color match available.
We also print in metallic ink and reflective ink - a great way to make your umbrella design visible at night.
LOCAL PRINTING: The print size using this technique on ready-made in stock rain umbrellas is roughly 9 inches wide x 7 inches tall. There is a restriction to not printing to the edge or close to the seams.
OFF SHORE PRODUCTION: When we custom manufacture our umbrellas off shore, we can screen print the panels prior to sewing. This allows amazing effects such as all over prints and bold messages and branding.
Notice
: Undefined index: block_bg in
/home/vu/public_html/includes/blocks/photo-gallery.php
on line
6
Fatal error
: Uncaught Error: Call to undefined function get_block_background_style() in /home/vu/public_html/includes/blocks/photo-gallery.php:12 Stack trace: #0 /home/vu/public_html/includes/page-blocks.php(33): include() #1 /home/vu/public_html/index.php(72): include('/home/vu/public...') #2 {main} thrown in
/home/vu/public_html/includes/blocks/photo-gallery.php
on line
12